​​​
---
---
Handicapped facilities    
Israel is reasonably well equipped for catering for travelers with special needs. Airports, public transportation and many tourist sites are wheelchair friendly and most hotels have special rooms designed for handicapped travelers.
CHAI TIP – Do not forget to mention your handicap to us well in advance!
---
Health and medication
Before you travel to Israel, ask your doctor to write a prescription for any medications you may be taking with you in the event they are lost.  Ensure that your doctor puts his practice stamp on the prescription.  Keep all of your medications in their original bottles or packaging and in your hand luggage.
CHAI TIP – Israel is a leading country when it comes to health and medication.  There are many pharmacies around.  If you have forgotten the odd vitamin, etc – don't panic.
---
Jewish Holidays & Shabbat
Shabbat and all Jewish Holidays begin at sundown and end the following evening when it gets dark.
All banks and businesses are closed at these times except in major cities.
All transport except taxis come to a halt.
CHAI TIP – Take time to walk the streets of Jerusalem during this time and experience what true Shabbat rest means
---
Special meals
If you require special meals, please let Chai Tours know at least 60 days prior to your departure so that the airline and travel office in Israel can be advised.
CHAI TIP – Israel is full of healthy food and vegetables.  Make sure you try something traditional while in Israel. 
---
Useful information
Keep your medication in the original packaging
Keep important documents with you at all times.
Do not pack valuables into your check-in luggage
Declare any electronic equipment such as cameras, laptops, etc. before leaving the country so that, upon your return you can prove that you did not buy it in Israel and will be held for import taxes.
Ensure that your luggage is clearly tagged.
You have to be at the airport 3 hours before departure of your international flight.
Never leave your luggage unattended
Do not accept any parcels from strangers
Ensure that there are no sharp items in your carry-on luggage
Take something to read or to do on the airplane – it is a long flight.
Dress comfortably for the flight.
Drink water rather than alcohol during the flight.
Have a moisturizer/hand cream handy as the air in the cabin is extremely dry
Stretch your arms and legs occasionally during the flight.
Wear comfortable shoes as some of the streets in Jerusalem can be hilly and uneven at places.
Never leave valuables in your hotel room unless you lock it in the safe.
Wear modest clothing when visiting any religious shrine.
Take a small back pace for every day touring to hold your notebook and pen, purse, a snack, cap, water bottle etc.
Most breakfast and dinners are included on any tour.  You do not have to spend money buying lunch every day.  Take little zip seal bags and stock them with nuts and dried fruit for a lovely lunch.
Pack your underwear in one or more zip seal bags.  If security decides to unpack your suitcase your underwear will not be all over the counter.
Take little bank bags, labels and a marker along.  You may collect some stones or findings at various sites that you would like to bring home.  If you put it in a plastic bank bag, and mark it you will not struggle to remember what you collected where by the time you are home.
CHAI TIP – Leave a copy of the following with your family:  passport, itinerary, hotel names and telephone numbers
---
Useful websites
CHAI TIP – Gather as much information as possible before your trip to ensure your trip will be an eventful one
---
Local Currency & Money Matters
The currency in Israel is the shekel (NIS), sometimes called the new shekel.
Shekels consist of 100 agurot.
Shekel coins are available in denominations of 0.1, 0.5, 1, 2, 5 and 10
Shekel banknotes are available in denominations of 20, 50, 100 and 200.
Foreign currency may be exchanged in Israel at money changers, any bank and many hotels.
Bank operation hours are usually from Sunday – Thursday 8:30 – 12:30 and 16:00 to 18:00.
Since the majority of your normal expenses are covered in your fixed tour cost, we suggest that you bring the minimum cash and/or traveler's cheques.
We would like to suggest that you rather draw money in local currency at the Tel Aviv Airport or at one of the ATM machines located in the areas that we will be visiting. Most foreign bank cards work in Israel and it is more cost-effective to draw money here in Israel than to exchange money in your home country.
It is advisable to increase your daily withdrawal limit on your bank card with your local branch to its  maximum.  This will prevent unnecessary bank costs on limited smaller withdrawals.
Should you exchange money in your home country it will be at a less favorable rate.  Moreover, you will pay commission on the transaction.  The exchange rate when drawing money in Israel is more favorable and no commission is charged.
You can also use your credit card to pay at most shops.
CHAI TIP – Before you leave your home country –inform your bank that you will be taking a trip to Israel so that they can make a note on their system and not be alarmed when transactions from a foreign country appear on your account.
---
 It is fun and exciting to be able to address local Israelis in their own language even if it is just a word or two.  Below are a few Hebrew phrases that you may find helpful during your visit to Israel.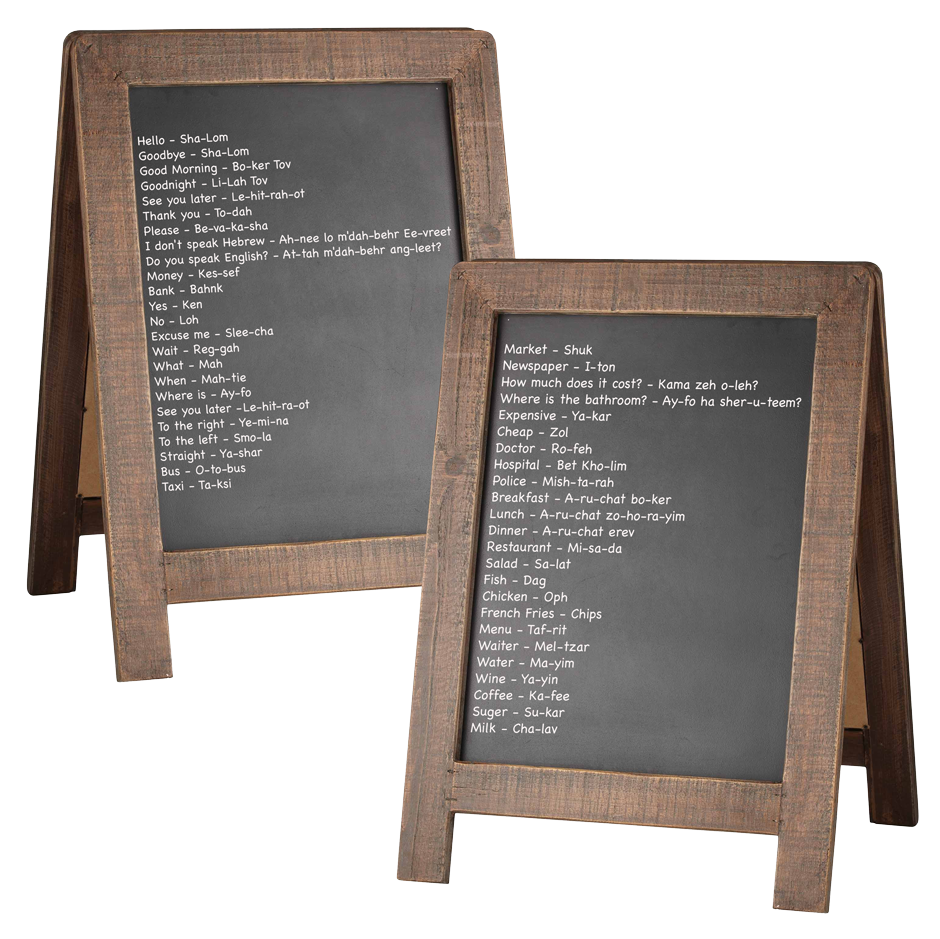 CHAI TIP – Go to www.kolkallah.com and order a full series of Hebrew Learning DVD's